I am a purist and prefer making photographs rather than talking about them. Therefore, I will be short.
My working method requires patience and a long-term commitment. I visit a particular place over time, years if necessary, and I live with that place until I feel I am able to adequately translate the spirit of it. Despite the very technical approach of the photographic technique itself, I believe that meaningful landscape images can only be captured when we commune with nature in ways that are beyond purely rational understanding. It is important to grow up with the subject until we are ready. In that sense, the revelation of the "ultimate shot" is more a reward than an accomplishment.
The gallery contains a selection of images from a body of work made in a small, yet incredibly beautiful area of Switzerland called the Doubs Walley. They were made between 1987 and 1993. More photographs, from this and other regions, will be added periodically.
Although these images may appear regional, they are intended to be universal by representing the serenity bound within the inner relations between us and the beauty of nature, and not merely pictorial representations of a given place.
As a picture is worth thousand words, I have posted a few of myself here so that you can begin to know me.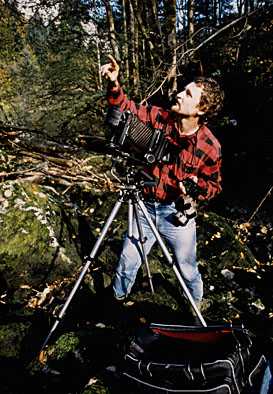 (Courtesy of Pavel Pravda)
The picture above was taken in the past millenium. The camera is a Wista 45 VX, which I have used extensively in my work, mainly in 4"x 5", the remainder in 2 ¼" x 3 ¼".
The picture below was taken last year somewhere in the Swiss Alps.